Tri Aggieland Triathlon
TRI Aggieland Sprint Triathlon
Date: July 9, 2017
Address: Texas A & M Recreation Center, College Station
Corner of Olsen Blvd. and John Kimbrough Blvd., College Station, TX
TRI Aggieland will feature an uncrowded, 400-meter snake-style swim in the world class, Texas A & M Natatorium, followed by a 12-mile bike on traffic-controlled campus and College Station roads, followed by a 5K run on paths meandering through the beautiful Texas A&M campus.
Each participant will receive:
A custom-printed tri-blend shirt and swim cap. (Shirt size and swim cap not guaranteed three weeks from Race Day)
Outstanding event support from our certified race directors and staff at Race Texas.
A custom finisher medal
State of the Art Chip Timing with real time finish line results on flat screen TVs.
FREE Race Photos
Post-race food and drinks!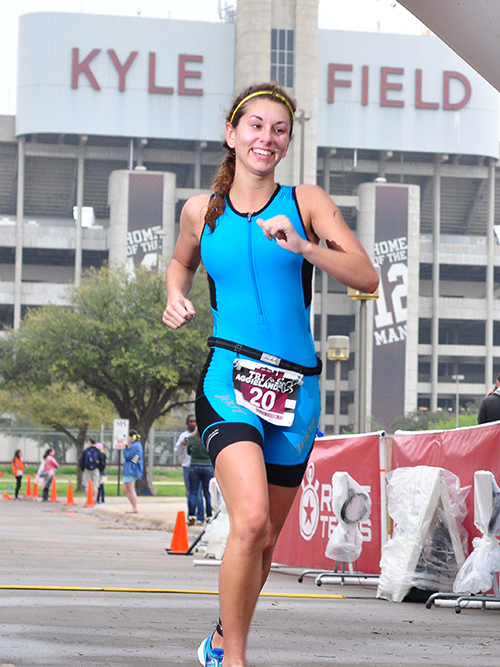 Schedule of Events (2016):
5:00am – Transition opens
6:00am – Relay orientation meeting (south side of transition area)
6:00am – Swim Warm-up
6:20am – Swim Warm-Up closes
6:30am – Transition closes
6:30am – National Anthem and Announcements
6:35am – Athletes line up in natatorium
6:45am – Invitational Wave Start
*7:00am – Age group wave start
10:30am – Awards (Approx)
*Age group will start immediately after the Invitational Wave.
Pricing Schedule
| | |
| --- | --- |
| First 25 | $85 |
| Next 26-50 | $95 |
| April 14th - May 19th | $100 |
| May 20th - June 9th | $110 |
| June 10th | $120 |
*Deferrals will be subject to a $10 fee after June 5th
Invitational Wave
The Invitational Wave this year for the top 16 female and 16 male triathletes. Those competing in this wave will have the chance to win cash money. In order to qualify you will need to provide proof that you have completed a sprint triathlon (400m Swim/12mile Bike/5k Run) under 1:06 for men and 1:10 for female or Olympic distance under 2:10 for men and 2:30 for female. You will need to provide a time and link to results when you register online.
Prize money will be 1st $300, 2nd $200, and 3rd $100 for men and women. The top 16 of each gender will be chosen based on times, everyone else will be placed on a standby list.
Refund Policy:
There are no refunds. As safety is our primary concern, the race director or Texas A&M reserve the right to cancel the event due to inclement weather. Follow us at http://www.facebook.com/TRIAGGIELAND
USAT Membership Required:
The 2017 TRI Aggieland Triathlon is sanctioned with USA Triathlon. Each participant will need to either be an Annual USAT Member ($50) or purchase a single-event membership ($15) during registration.
Awards:
Male & Female Age Groups: 5-Year Increments (14-19, 20-24, 25-29, 30-34, 35-39, 40-44, 45-49, 50-54, 55-59, 60-64, 65-69, 70-74, 75-79, 80 & over)
Specific permission from the Race Director is required for all entrants under 15 years old.
Awards will be presented to the Top Overall Male & Female
Awards will be presented to the Top 3 Male & Female in each age group.
Awards will be presented to the Top 3 Relay Teams.
You must be present at the award ceremony to receive your award.
Race Rules:
USAT Rules will be enforced. Visit USAT for a list of common violations. http://www.usatriathlon.org/about-multisport/rulebook.aspx
Packet Pickup:
Where: TBD
When: TBD
All participants must pick up their own packets at packet pick up. You must show photo ID and USAT current membership card.
*Race Day packet pickup available for $10 during registration. Pickup from 5am to 630am on race day.
Relay Team:
Are you and two friends up to the challenge?
July 9, 2017
TRI Aggieland Sprint Triathlon is offering the opportunity to enter teams to race in a triathlon relay.
Teams will comprise of two or three athletes – a swimmer (400 meters), cyclist (12 mile bike ride), and runner (5K Run).
We are limited to 20 teams for this division!
Sign up early!
Rules:
Relay teams will be assigned a race number based on their estimated swim time.
Your team will use your assigned number for all of the following race logistics.
All relay team members need to be body marked with assigned team number.
Relay Team runner needs to have the race "bib" number affixed to shirt or race belt.
First chip transfer must occur inside transition area prior to bike leg starting bike portion of the race.
Second chip transfer must occur at the end of the bike leg in the transition area AFTER the bike is properly racked.
The biker can be fully dressed with helmet and shoes on if they choose.
Cyclist returns to transition and racks bike in same assigned bike rack location.
Runner crosses finish line with paper race "Bib" number on front of their body.
Relay members may not interfere with other competitors while inside the transition area.
All participants must have USAT memberships in order to participate.